Broden Giambrone (Director)
Broden is a trans activist with over fifteen years' experience in community organising, activism and capacity building in trans communities. Before joining the ITF, Broden was the Chief Executive of Transgender Equality Network Ireland (TENI) for six years. In this position, he took a leadership role in TENI's high level advocacy and lobbying for the introduction of the Gender Recognition Act 2015, a legal recognition law based on self-determination. Broden also spearheaded TENI's STAD (Stop Transphobia and Discrimination) campaign which documented violence and discrimination against trans people and raised awareness about transphobia. He is an experienced public speaker and has delivered presentations across the globe and has been published in numerous academic journals and media outlets. Broden has a long record of involvement and leadership in intersectional social justice campaigns related to issues of self-determination, bodily integrity and harm reduction. He holds a Master's in Public Health (Health Promotion) from the University of Toronto, which focused on community development and policy development in the field of trans health.
Chivuli Ukwimi (Deputy Director)
Chivuli Ukwimi is an international development and public health specialist with years of experience in grant making, philanthropy and organizational development. Chivuli has qualifications in development studies, public health, development finance, international relations and diplomacy from Africa's top universities with a wealth of experience in developing and implementing social and health justice programmes for marginalized and inadequately served populations across Africa and the globe. Chivuli has managed multiple grant making and philanthropy portfolios within various funding organisations including OSF's Open Society Initiative for Southern Africa (OSISA) and Hivos Southern Africa. Other organisations include Population Services International (PSI) Zambia and Outright Action International. As a transgender woman Chivuli is driven by a personal vision of living in an inclusive world where all people can fully enjoy and realise their inherent rights. Chivuli is a founding member of Friends of Rainka (now Dignitate Zambia) where she served as board chair and African Men for Sexual Health and Rights (AMSHeR) where she served as steering committee member. It is for this reason that she continues to champion and advocate for the human rights of trans diverse persons and trans women's groups and communities in her native Zambia and across the globe. Away from work Chivuli is an avid traveller, creative writer and aspiring food connoisseur.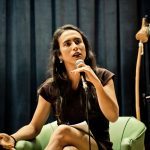 Viviane Vergueiro Simakawa (Program Officer)
Viviane is a transfeminist activist, researcher and economist based in Brazil. She has 7 years professional experience organizing and participating in initiatives related to SOGIESC issues, specifically within Latin American contexts. She is also a passionate researcher and is currently studying gender identity and expression as a Ph.D. candidate in Women, Gender and Feminist Studies at the Federal University of Bahia (UFBA). Viviane's involvement with activism and research on trans issues, particularly trans depathologization and initiatives at the local level in Brazil, has significantly influenced her work which is focused on resourcing and supporting trans people in various spheres and contexts. Viviane was previously a member of the ITF's Steering Committee. She also holds a Master's degree in Cultural Studies and a BA in Economics.


Luca Lukina (Communications Associate)
Luca is a nonbinary activist from Kyrgyzstan with more than 7 years of experience in communications. They attended American University of Central Asia (AUCA) and first began their work as a volunteer for Bishkek Feminist Initiatives. Volunteering for a women's rights NGO sparked their interest in gender and sexuality activism. Significant part of Luca's career has been focused on media and communications for nonprofits. Prior to joining ITF they held an Advocacy and Education Program specialist position at LGBT organization "Labrys" based in Bishkek. Last year Luca successfully designed and launched sexual and reproductive health awareness campaign on social media as part of UNFPA project for key populations. In their free time Luca loves running and taking care of plants.

Jihan Qunoo (Senior Finance and Operations Officer)
Jihan Qunoo is a Senior Finance and Operations officer at ITF. Joined in 2022, She has several years of experience working in finance and accounting in nonprofits organizations, grant management, donors' rules, and regulations, managing budgets, pipelines, and partnership management. Prior to joining ITF, she worked in the Co-operative development foundation of Canada as finance officer providing financial support and managing multiple project budgets, she works closely with partners and prepares and works on project audits in many regions and helps in setting up projects in Ghana, Ethiopia, Malawi, and Ukraine. Also, she works with the International Medical Corps as senior finance administrator to support and implement projects in the West Bank and Gaza Strip. She has a Bachelor of Commerce majoring in accounting and is in progress of finalizing her master's degree in accounting. She is based on Ottawa, ON.
Karen Bennett (Interim Program Associate)
Karen Bennett is a trans non-binary artist and activist, performer, composer, songwriter, arranger, producer, film scorer, guitarist and singer from Buenos Aires, Argentina with a career spanning over 35 years. Additionally, Karen also engaged in international trans advocacy work in 2010. She joined GATE in 2012 as Executive Assistant for Mauro Cabral until 2021. In 2017, GATE appointed Karen to conduct an interview with Broden Giambrone and Mukasa who were announcing the ITF's foundation and she has been working as external translator and interpreter for the ITF before becoming ITF's current Interim Program Associate. Karen is the first trans musician in Latin America to write a score for a feature film "El Puto Inolvidable", a documentary on the late lgbti activist who started the Pride Parades in Argentina. Karen is fluent in Spanish, English and German and loves sports such as football (soccer) and tennis.
This post is also available in: Español (Spanish)